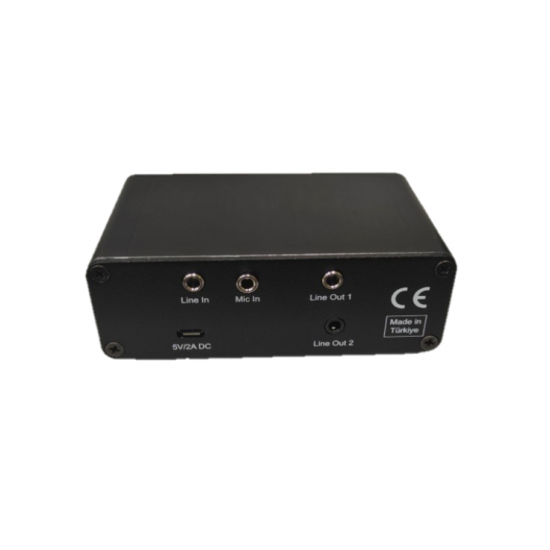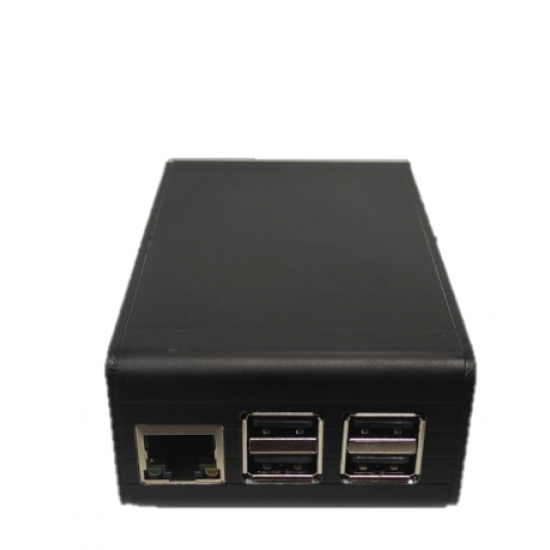 Hot



Portable IP Audio Streamer&Receiver
IPAT-22 is an independent audio streamer&receiver. It has two separate audio inputs, 3.5 mm microphone input and 3.5 mm stereo audio inputs. The audio input/output supports up to 8 dBu (2Vrms).
It can work with Shoutcast or Icecast compatible servers. IPAT is fully compatible with ONAIR IPAR audio receiver also.
It comes with a built-in Icecast compatible audio server, and can decode the audio sent from any Icecast compatible audio streamer.

IPAT has a built-in web server and audio server. The built-in web server enables remote controlling and built-in audio server to enable easy re-streaming audio inputs.
With WiFi Hotspot support, you can easily monitor and control IPAT.
IPAT uses 2GB of internet per day on average at 192 kbps broadcast quality (192 kbps broadcast quality is used for MP3s with a sampling frequency of 44100)
Features:

• Creates digital OGG/MP3 audio streams at a bit rate that can be set from analog audio inputs.
• Decodes almost all popular audio streams.

• Supported network connection methods: HTTP, BRTP, RTP, SIP, raw UDP, raw TCP, Icecast, and Shoutcast.

• Streaming encryption and distribution methods: Shoutcast, Icecast
• Easy setup with a standard web browser.
• Internal Icecast compatible audio server.
• Remote control over TCP/IP or cloud.
• 3G/4G USB modem support.
Electrical:
Voltage/Current: 5V/2A
Power Consumption: 13 W max.
Input type: Micro USB
Internet:
Max. 150Mbps WIFI connection
3G/4G USB Modem Support (USB 2.0)
10/100 Mbps Ethernet Connection
Audio:

2.1 Vrms maximum input voltage (4.2Vrms for balanced input)
2.1 Vrms maximum output voltage
103 dB signal-to-noise ratio(typical) input
106 dB signal-to-noise ratio(typical) output
-84 dB THD+N (typical) input
-92 dB THD+N (typical) output
10 Hz-70 kHz (-3dB) Frequency response
-12 dB to 32 dB input gain
44.1-192 kHz sample rates
IPAT-22 Application: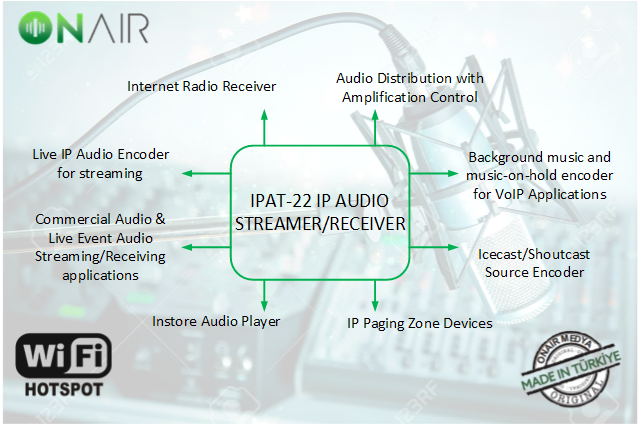 IPAT-22 Icecast/Shoutcast Usage:

IPAT-22 Streamer/Receiver Usage:

Stock:

27

Model:

IPAT-22

Weight:

1.00kg

Dimensions:

230.00mm x 130.00mm x 100.00mm

ONAIR