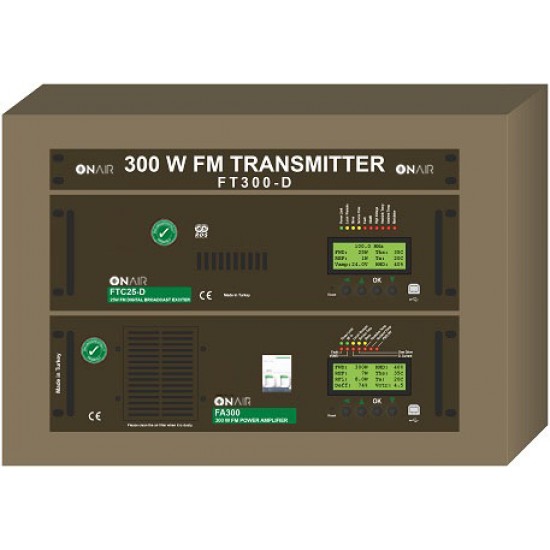 ONAIR, 300 W FM Digital Transmitter
FT300-D 300 W FM digital transmitter in a 19" Rack. Composed by FTC25-D exciter and FA300 power amplifier.
It is manufactured with state-of-the-art and highly efficient LDMOS transistors which reduce the operating, cooling and maintenance costs. It is equipped with analog audio, AES/EBU, MPX, RDS, 19 KHz, 1 PPS inputs. All of them are processed in FPGA and converted to digital signals and FM waves are produced with the minimum noise level. Direct to channel(DDS) modulator delivers superb signal quality and crystal clear sound with unrivaled performance.

ONAIR's FT300-D, with built-in features not found in competing models, saves you more than just the cost of additional external equipment. Smaller rack size, quicker installation and set-up times, reduced maintenance and future system expandability options put you at a competitive advantage while ensuring overall system reliability.
The truly scalable design accommodates both current and future system configurations, including main/alternate, FM booster, and N+1 applications, ensuring your purchase today will meet your needs tomorrow. As your station's needs change, so can your transmitter, saving you money on costly system upgrades.

Remote Control
FT300-D compact transmitter comes with cloud-compatible remote control software with a simple interface. All the features of the device can be viewed and controlled via the built-in web server or OnAir service center(OSC). With 3G/4G USB support, the device can be easily controlled even in rural areas with mobile phone signal thanks to cloud support.
Thanks to the built-in RDS encoder and the special web protocol we have developed, we work with most of the radio automation software and automate the release of the song and artist name.
Silence Detector
Thanks to the built-in silence detector, it detects the sound interruption in the broadcast, if you wish it sends you a warning message and activates the backup audio service.
FT300-D compact transmitter features multiple backup audio sources (analog audio input, AES/EBU, MPX, I2S, IP audio, built-in audio player). In the event of audio interruption, changing the audio sources according to your preference ensures that your broadcast always has a sound.
IP Audio
With the built-in audio analyzer, Shoutcast, Icecast, HE-AAC v1/v2, MPEG-1 layer 3 compressed audio streams, OGG compressed audio streams and uncompressed PCM audio streams can be analyzed over IP networks. It works easily anywhere with internet access, even on firewalls or custom routed networks, without the need for high audio quality and human intervention.
Integrated Audio Player
FT300-D FM compact transmitter supports MP1, MP2, MP3, OGG, AAC, HE-AAC, MPEG-4 ALS, OGG Vorbis, FLAC, Musepack, SPEEX and WAVE file types. With the built-in 8 GB memory, you can store approximately 1000 hours of audio recording.
E-Mail and SMS Notifications
In case of any warning or error, the device sends E-Mail and/or SMS notifications to the specified email addresses and phone numbers.
N+1 Redundancy System
FT300-D FM compact transmitter is ready for the N+1 backup system. Identification of spare devices and connections are made easily.
Main Features

Very compact case
Measurement and display of the transmitter's working parameters
Direct to channel(DDS) digital exciter with built-in RDS encoder
Excellent audio performance is ensured by advanced digital signal processing technology (24-bit analog converter)
Built-in silence detector (adjustable time)
Built-in automatic audio source selector
Compatible with SFN
RDS Alarm contact
Automatic start/stop of the airconditioner
Ready N+1 redundancy system
Self Managing System
Event logs can be seen on display or printed out with date&time of event
All parameters can be remotely controlled by TCP/IP
High-reliability use of Microstrip Technology
Forward power, reflected power, heatsink temperature, transistor current and voltage protections
Built-in silence detector, failover to the integrated audio player or IP audio (Adjustable time and threshold)
Audio input selection between transmitter audio inputs, IP audio, integrated audio player
Event logging (Notificaton over e-mail, SMS and Onair Service Center)
Remote Control over the Internet, TCP/IP and Onair Service Center
Internal IP Audio Decoder (Shoutcast, Icecast, Mpeg TS, Mpeg2 TS, Flacstream, PCM Stream)
N+1 Redundancy system ready
Automatically determines the operating parameters for maximum efficiency when frequency or output power is changed.
A clean start can be made by returning to factory settings
Broadcasting artist and song title over RDS (compatible with all radio automation softwares)
Cellular internet connection supported using 3G/4G USB stick
Comparison of FT and FT-D
| | | | |
| --- | --- | --- | --- |
| Function | FT | FT-D | Description |
| MPX input | ✘ | ✓ | |
| AES/EBU input | ✘ | ✓ | |
| S/N ratio | >50dB | >90dB | |
| Automatic audio source selection | ✘ | ✓ | When the L&R audio the source is cut off, MPX, AES/EBU, IP or Audio backup (internal SD card) can be selected automatically in FT300-D. Audio backup (internal SD card) can be selected in FT300 when the L&R audio source is cut off. |
| Printer port | ✘ | ✓ | It is used to print out the event logs |
| N+1 Redundancy system | ✘ | ✓ | FT300-D : Maximum 7+1 , FT300 : 1+1 only |
| GPIO | ✘ | ✓ | when temperature or humidity is high you can run air-condition automatically |
| RS485 | ✘ | ✓ | It is to communicate between Onair transmitters |
| RS232 | ✘ | ✓ | It is used to program the internal RDS via satellite or to get print out of events |
| USB | ✘ | ✓ | It is used to update the software of the control system |
| Interlock | ✘ | ✓ | It is used to stop the transmitter in case of an emergency like a fire inside the transmitter station |
| Room temperature protection | ✘ | ✓ | |
| Humidity sensor | ✘ | ✓ | |
Attributes
Modulator Technology
DDS-Completely digital modulation and stereo encoding.
FM Transmitters
Output Power
300 W
RDS AF
Included.
Audio Inputs
Analog(L/R) - MPX - AES/EBU - IP Audio(URL) - Backup Audio(internal memory)
RDS PSN
50 Lines.
Remote Control
TCP/IP - internet- SNMP and cloud. Internet connection can be made via ethernet or USB. Cellular internet connection supported using 3G/4G USB stick.
RF Power Stage Technology
LDMOS
Automatic Redundancy System
Built in N+1 redundancy system.
AUDIO & RF DATA
Maximum Frequency Deviation
±150 KHz
Stock:

10

Model:

FT300-D

Weight:

49.00kg

Dimensions:

620.00mm x 500.00mm x 900.00mm

ONAIR