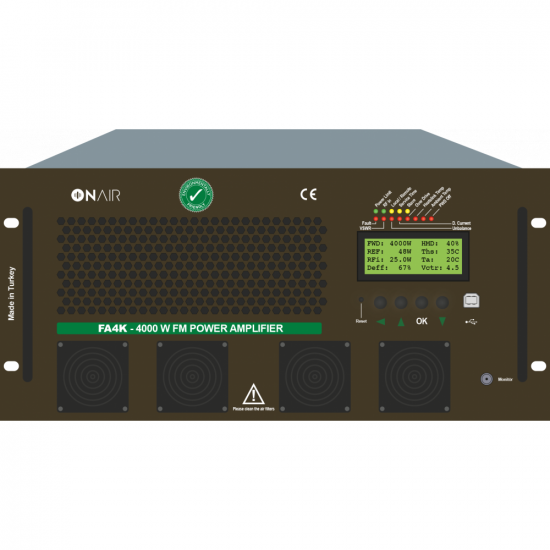 ONAIR, 4 KW FM Amplifier
It is designed using a very rugged LDMOS transistor. So, its efficiency is very high.
Max. Input power is 30W.
It has reflection, current and temperature protections.
Output power can be set to lower powers.
It has a room temperature and humidity sensor inside, so it automatically runs airconditioner according to transmitter room air condition.
It keeps event logs.
It has a remote control via an ethernet or 3G/4G USB stick.
N+1 redundancy system is ready to use.
Efficient
Very Efficient LDMOS Amplifier
Our amplifiers are manufactured using high efficient LDMOS transistors.
Redundant
N+1 Redundancy system
With the Built-in N+1 Redundancy system, you'll be always on the air.
Cloud-ready
Remote controlling has defaulted on FA's!
FA series has a built-in remote control system, which is also cloud-ready.
FM Transmitters
RF Power Stage Technology
LDMOS
PHYSICAL FEATURES
Amplifier Type
Rack Type FM Amplifier
FM Amplifiers
Output Power
4000 W
Redundancy System
Built in N+1 redundancy system.
Remote Control
TCP/IP - internet- SNMP and cloud. Internet connection can be made via ethernet or USB. Cellular internet connection supported using 3G/4G USB stick.
Stock:

20

Model:

FA4K

Weight:

53.00kg

Dimensions:

775.00mm x 485.00mm x 220.00mm

ONAIR