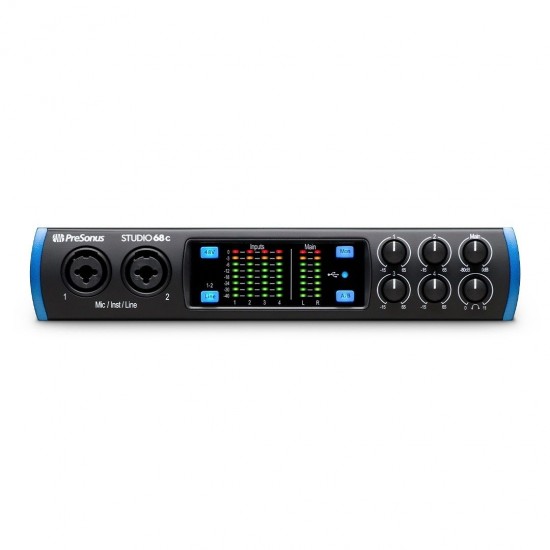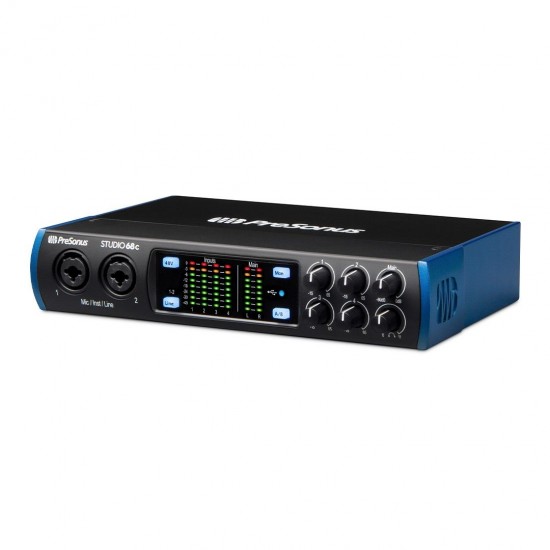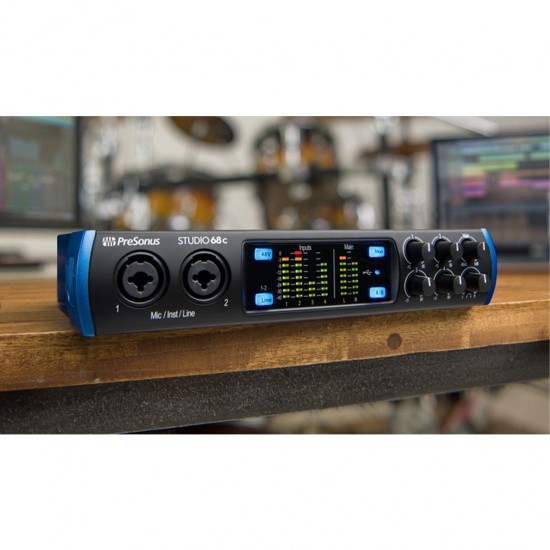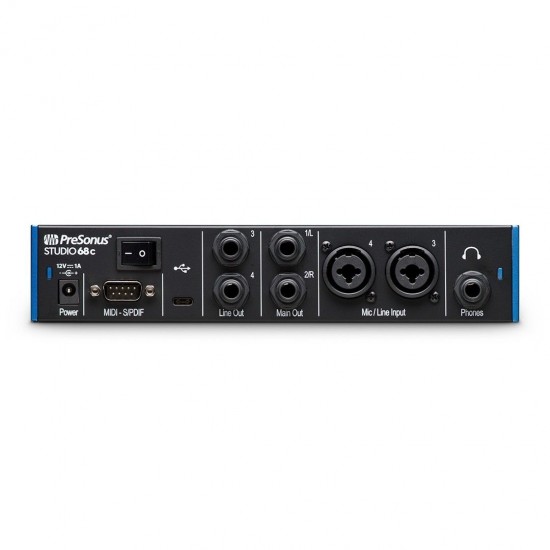 STUDIO 68C
An ideal choice for small studios, bands and producers, the Studio 6|8 is a USB-C connected sound card capable of recording up to 192 kHz with 6 inputs/6 outputs and MIDI I/O. It has two mic/line/instruments with PreSonus XMAX preamps and two mic/line inputs, DC-coupled outputs and MIDI I/O. Coming with Stdio One Artist software, Studio 68c is compatible with all USB 2.0 and USB 3.0 macs and PCs.
Highlights:

USB 2.0 bus powered, 6x6 sound card

24-bit precision; 44.1, 48, 88.2, 96, 176.4, 192 kHz sampling frequencies

2 mic/instrument/line inputs with XMAX Class A solid-state mic preamps

2 mic/line inputs with XMAX Class A solid-state mic preamps

+48V phantom power

2 balanced ¼" TRS line outputs (DC coupled)

2 balanced ¼" TRS MAIN (Main) outputs (DC coupled)

6 ladder type LED level indicators (for 2 inputs and 2 outputs)

2 Stereo Headphone outputs with Cue Mix A/B

Direct Monitoring

MIDI I/O

Rich software support

USB-C connection

With USB-C -> USB-C and USB-C -> USB-A cables
The 2 combo mic/line/instruments on the front panel and the 2 mic/line preamps on the back panel have XMAX technology. Besides the main L/R output, there is a pair of balanced line-level outputs that can be used for monitor mixing or different speaker listening. Ideal for DJs and/or listening to a performance artist's monitor mix, the Cue mix A/B function allows you to switch between two different mixes while listening through headphones. Finally, you can connect to all your MIDI devices thanks to the MIDI input/output on it, and you can send audio signals to external devices digitally losslessly thanks to the S/PDIF digital input/output. Studio 6|8 comes with PreSonus' award-winning Studio One Artist software that lets you record instantly.

Included with the Studio 68c is the $75 advanced DAW software Studio One Artist (latest version) the Studio Magic Plug-In suite with €1000 worth of software and Ableton Live Lite.

Studio Magic content:

UJAM Virtual Drummer PHAT

iZotope Neutron Elements

Studio Linked Trophies

SPL Attacker

Mäag Audio EQ2

Lexicon MPX-i Reverb

Klanghelm SDRR2tube

Output Movement

Brainworx bx_opto

Arturia Analog Lab Lite
Technicial Specifications:
General

Sampling frequencies: 44.1, 48, 88.2, 96, 176.4, 192 kHz

Converter precision: 24-bit

Transducer dynamic range: 114 dB

Frequency Response: 20 Hz to 20 kHz, +/-0.2 dB
Microphone Inputs:
Input max level: +16 dBu




Gain range: 80 dB

Frequency Response: 20 Hz to 20 kHz, +/-0.15 dB

Dynamic Range (min. gain, a-wtd): > 114 dB

THD+N (unity gain, 1 kHz, -1 dBFS): < 0.007%

Input Impedance (balanced): 1.6 kOhm

EIN (max gain, 150Ω input, 20 Hz-22 kHz, A-wtd): < -130 dBu

Phantom Power: +48V, 10mA


Instrument Inputs
Input max level (min. gain, unbalance): +15 dBu

Gain range: 80 dB

Frequency Response (min gain): 20 Hz to 20 kHz, +/-0.1 dB

Dynamic Range (min. gain, a-wtd): > 114.7 dB

THD+N (min gain, 1 kHz, -1 dBFS): < 0.012%

Input Impedance: 1 MOhm


Line Inputs
Input max level (min. gain, unbalance): +22 dBu

Gain range: 40 dB

Frequency Response (min gain): 20 Hz to 20 kHz, +/-0.15 dB

Dynamic Range (min. gain, a-wtd): > 113.9 dB

THD+N (min gain, 1 kHz, -1 dBFS): < 0.007%

Input Impedance: 10 KOhm
Main outputs
Stock:

1

Model:

STUDIO 68C

Weight:

1.00kg

Dimensions:

229.00mm x 140.00mm x 44.00mm